MTP/MPO-LC (LX4053)
Product Description
LASUN MTP/MPO-LC hybrid connector termination cable refers to one end with 12-core or 24-core MTP/MPO connectors,while the other end with LC or SC duplex connectors, It's comply to the Telcordia-GR-326, IEC standard and ROHS requirements, High Performance Plug-and-play architecture effectively reduces the installation and ongoing maintenance costs.Widely used in enterprise' local area network cabling between different buildings, Base station cabling,
residential, Business building room light connection, intensive building cabling systems, local area networks (LANs) and WANS FTTX fiber to households.
Product Features
· With 12-fiber and 24-fiber MPO/MTO connector standard
· Available in OS1/2, OM2, OM3 and OM4
· Available in FC,LC, SC, ST, MU, and MTP
· Interface polished type has PC, UPC and APC
· Support use in attaching directly to 40/100G transceivers
· 100% factory tested, with test results included for each assembly
· Polarity options are TIA style A, B, or C (Method B is standard)
· For transition from trunk backbone assemblies to fiber rack system
· Discrete connectors are heat-cured and use ceramic ferrules and sleeves
· Fan-out fibers from MPO/MTP connectors into individual simplex or duplex
· Used in conjunction with frame (Zero-U) or Flush Mount 1RU panels, and direct connect into SAN equipment
· Customized for length, staggering, connector type, breakout style, fiber count, and labeling.
Specifications: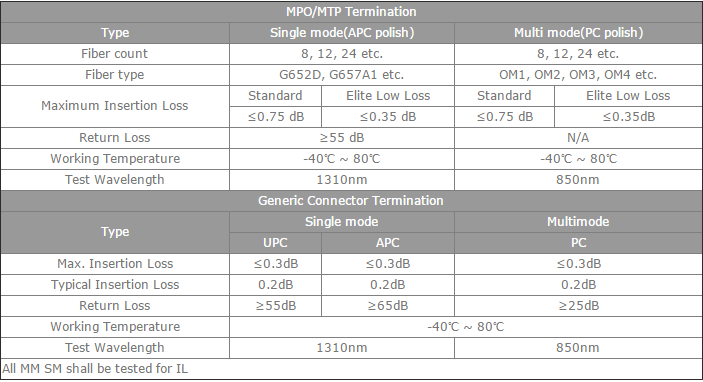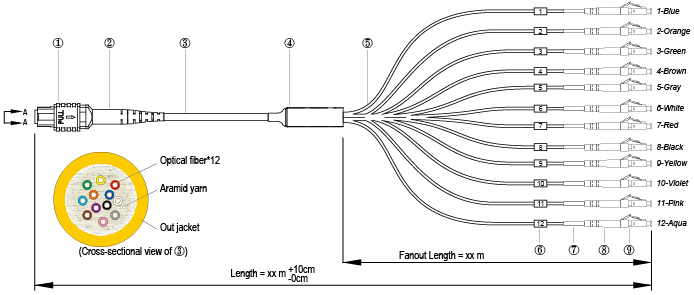 ①MPO/MTP Female connector ②Φ3.0mm Boot ③Φ3.0mm – 12 Fibers Mini cable ④Fanout kit ⑤Φ2.0mm Fiber cable
⑥Number Label ⑦Heat Shrink Tubing ⑧LC Boot ⑨LC simplex connector
* Remark:
· Connector type available for ⑨ : LC SX, SC SX, LC DX, SC DX, LC Uni-boot, MU SX, FC, ST, MTRJ
· The default diameter of ③ is Φ3.0mm.
· The diameter of branch cable could be choosen as 0.9mm,2.0mm.
· We can also custom the pulling eyes, welcome to contact us if you need.
Cable Color
· Hybrid Harnesses cables: OS1/2-yellow, OM1/2-orange, OM3/4-Aqua
· 40G/100G Harnesses cables: Aqua
· MPO/MTP-LC Secure Keyed Harnesses cables: OS1/2-yellow, OM1/2-orange, OM3/4-Aqua