Recently, Anhui Lasun Communication Co.,Ltd CAT6A U/UTP lan cable successfully passed the 3P third-party test of the communication cables electrical performance of ISO/IEC and ANSI/TIA , and meet the electrical performance requirements of ISO/IEC11801-1: 2017, CENELEC EN50173-1: 2018, 1.0 version , ANSI/TIA-568.2-D: 2018 and IEC61156-5: 2020 3.0version.
What is lan cable 3P certification
"3P" stands for Third Party Certification, which is certified by the world-famous product performance testing and certification center-Denmark DELTA laboratory, and carries out various advanced integrated wiring standards for products of various manufacturers. The DELTA laboratory mainly tests the performance (TIA/EIA-568-C), aging and combustion of the lan cable, and issues relevant certifications after passing the test.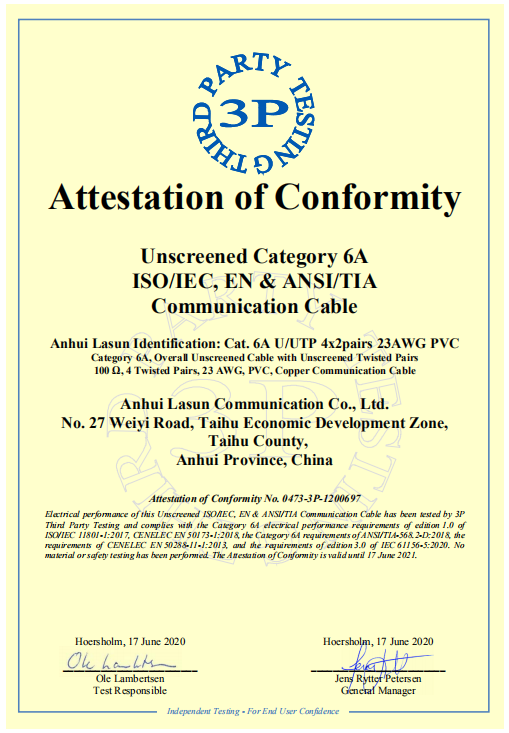 CAT6A UTP 6+1 test
Among the CAT6A UTP test standards, there is a 6+1 alien crosstalk test, which has always been a problem in the network line industry. With the unremitting efforts of our engineering R&D personnels to research and develop, Anhui lasun Communication Co., Ltd. has been one of the few manufacturers in the industry that can pass the 6+1 test.